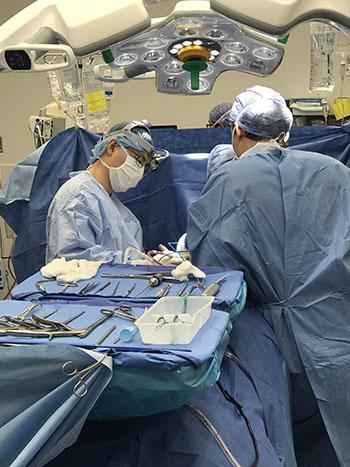 1. With nearly two decades of experience, Dr. Cho is a highly specialized, board-certified, fellowship-trained spine surgeon. Dr. Cho exemplifies an unwavering commitment to providing exceptional spine care, addressing common conditions like sprains and strains to handling the most intricate scoliosis cases. His expertise extends from performing minimally invasive endoscopic spine surgeries, requiring only a small incision, to undertaking complex surgeries lasting up to 18 hours. Working closely with his dedicated team at Mount Sinai, Dr. Cho is steadfast in utilizing evidence-based treatments, offering personalized care to optimize patient outcomes.
2. Dr. Cho was the first to offer endoscopic spine surgery at Mount Sinai Hospital.  With these procedures, patients can experience same-day recovery, often leaving the hospital with just a bandaid. This groundbreaking technique allows many individuals to return home on the day of surgery, free from pain. Dr. Cho, in his commitment to personalized care, avoids a one-size-fits-all approach. Instead, he employs diverse techniques to minimize collateral damage to surrounding spinal tissues during surgery. Dr. Cho ensures a tailored treatment approach to meet the unique needs of each patient.
3. Dr. Cho uniquely holds dual academic appointments as a Professor of Orthopedic Surgery and Neurological Surgery at the Icahn School of Medicine at Mount Sinai. Dr. Cho is also the Director of the Spine Surgery Fellowship for the Mount Sinai Health System. He provides consultation and treatment for adult and pediatric patients with both common and complex spinal diseases, disorders and deformities. He offers patients both conservative spine care and endoscopic minimally invasive microsurgery, as well as motion-preserving procedures such as artificial disc replacement.
4. Dr. Cho's unwavering dedication to advancing spine care is vividly demonstrated through his extensive research contributions. He has authored over 300 articles published in well-regarded, peer-reviewed medical journals and continues to submit his papers today. Dr. Cho and his committed research team are tirelessly striving to advance medical knowledge and disseminate innovative patient treatment approaches to the community. His research interests are diverse, spanning from the intricate processes governing bone formation at the cellular level to the examination of how access to healthcare impacts patient outcomes following spine surgery.
5. Dr. Cho frequently engages in conferences, both locally and globally, where he serves as a guest, committee member, or active participant. His involvement spans national and international events, where he contributes significantly to discussions and knowledge exchange among esteemed organizations such as the American Academy of Orthopaedic Surgeons, the Cervical Spine Research Society, the North American Spine Society, the Scoliosis Research Society, and many others, showcasing his commitment to advancing the field of spine and neurosurgery.
6. Dr. Cho's extensive and highly specialized training equips him to address all aspects of spine care. Collaborating closely with specialists in pain management, rehabilitation, and physical therapy, he offers a comprehensive approach to treatment, whether surgical or non-surgical. His clinical interests encompass a wide range of conditions, including degenerative disorders, spinal deformities, spinal tumors, spine trauma, endoscopic spine surgery, and innovative technologies like artificial disc replacement.
7. Dr. Cho embraces the exciting realm of robotic spine surgery, a cutting-edge technology that promises groundbreaking improvements. He is eagerly preparing, actively researching and preparing  to integrate this innovation into his clinical practice in the very near future.
Dr. Cho's practice is driven by a straightforward and compassionate mission: delivering the highest standard of spine care while fostering a familial atmosphere for patients. He dedicates time to attentively listen to concerns, address questions, thoroughly analyze MRI/CAT scans, and offer honest and conservative suggestions. Dr. Cho does not advocate surgery for every situation; instead, he may recommend exploring alternative methods before considering surgery. With an ethos that treats everyone as family, his practice prioritizes personalized and considerate patient care.